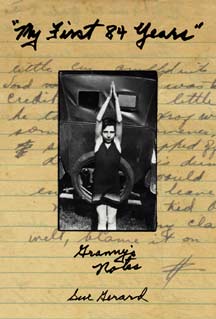 Sue Gerard's first book
My First 84 Years
Sue published her first book in 1998, after 84 years of talented storytelling. Her family helped her produce this beautiful hardcover book, featuring a varied selection of new and revised stories and memories. My First 84 Years can be ordered here for $23.00 postage paid.
---
About the book

Granny is Sue Gerard, an 84-year-old wonder in a baseball cap, biking shorts and a T-shirt that states "I'm Too Young To Be This Old!" She's a wonderful story teller as these pages reveal. The joy of doing the impossible surfaced before she was old enough to remember and one incident reported within sent her Mother into hysterics when Sue was only three.

Sue has had an insatiable quest for learning and for being independent and her own person throughout her life. At an early age she learned the rewards of a hard-earned quarter. Her Dad's dairy customers launched her into business when they bought gooseberries, Christmas trees and black walnuts from her at age 8. She made 25 cents a week washing milk bottles in the dairy barn. She even won a pocketful of dimes gambling at a festival.

Sue started keeping a journal at a young age and found that others liked to read what she wrote. After Journalism School at the University of Missouri, she began writing her "stories" and selling them to magazines such as The Farm Journal, Better Homes and Gardens, Ebony, and Reader's Digest. In her never-ending desire to teach, she compiled her diary entries, stories, published articles and even her poetry into homemade "books" for her grandchildren. She called them "Granny's Notes." In 1994, she started sharing these stories in a weekly column in the Columbia Daily Tribune. Her readers told her often, "You should put these wonderful stories into a book!"

And so she has! These are the tales of a granny who has lived a busy, happy, productive life for 84 years. Full of energy and a zest for life, Sue has passed on many of life's lessons to her family, students, friends and now to you. Within these pages, read about growing up on a Missouri dairy farm, winning a fiddler's contest, living in a tent after the family home burned at the age of six, some of the history of the Daniel Boone country and much more! Open this book to any page and be captured.


You won't be able to read just one story!
---
A few comments

"It occurred to me that you might possibly have enough for a volume. If I am right, I should like very much indeed to see it."
--H. C. Grimes, Publisher, Chapman & Grimes, 1936

"She's the kind of woman who gives other women inferiority complexes."
--Chicago Tribune Reporter

"Keep up your wonderful work... You're already on top!"
--John M. Allen, Vice President, Reader's Digest, 1985

"The devil won't find work for Sue Gerard because her hands are never idle."
--Best of Missouri Hands Catalog

"Keep the excellent stories coming; you certainly are a gifted writer."
--Rosanne Macrina, Publisher, Ford New Holland News, 1991

"Sue, you have the richest and most fulfilled life of anyone I've ever known. Now your book shows us all how to do it."
--Joan Gilbert, author, Missouri Ghosts and The Trail of Tears

"The best history is in the life of the average person. It puts us in context for the time in which that person lived. Sue Gerard gives us a bonus because she is an extraordinary person."
--Bob Priddy, author, Across Our Wide Missouri, Vols. I, II, and III

"Her column is must reading for me. If you give it a try, you'll be hooked."
--Henry J. Waters III, Editor & Publisher, The Columbia Daily Tribune, Columbia, MO
---
My First 84 Years is now sold out!
A few copies of My First 84 Years can be found on Amazon.
And you can still order Just Leave the Dishes.
---
Sue Gerard is a folk artist, author, grandmother, potter, teacher in Columbia, Missouri