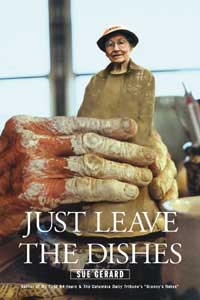 Sue Gerard's new book
Just Leave the Dishes
Sue Gerard is known in mid-Missouri as a teacher, a potter, and a talented writer. Following the successes of "Granny's Notes," her weekly column in The Columbia Daily Tribune, and her book My First 84 Years, Sue is releasing her second collection of close to a hundred true stories with photographs.
This beautiful new hard-back book, Just Leave the Dishes, touches on traveling the world by bicycle, teaching at Christian (now Columbia) College, Missouri history, swimming and water safety, and much more. Take a trip in China on a bicycle. Travel through time to see rural Boone County. Dive into the memories of a remarkable woman, and feel the warmth and joy of life.
---
Available Now!

A few copies of Just Leave the Dishes can be found on Amazon.
---
Sue Gerard is a folk artist, author, grandmother, potter, teacher in Columbia, Missouri